Luncheon (noon)
Guest of Honor: Lara Warner, Chief Risk Officer, Credit Suisse Group AG
Join us on Friday, November 1, at 12.00 at the Haus Zum Rüden
Topic: "Coping with Risk – Prime Challenge in Banking"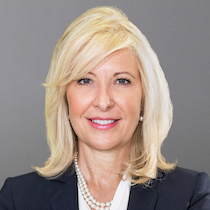 Meet Lara Warner
Lara Warner is the Group Chief Risk Officer and a member of the Executive Boards of Credit Suisse Group AG and Credit Suisse AG, based in Zurich. In her role as Group Chief Risk Officer, Lara Warner oversees Credit Suisse's global risk management framework for identifying, analyzing and mitigating internal and external risks. In this independent function, the mandate provides for a holistic shaping of Credit Suisse's risk profile.
From 2015 to early 2019, she was the Chief Compliance and Regulatory Affairs Officer (CCRO) and with this role, was appointed to the Credit Suisse Executive Board. In this position, she oversaw Credit Suisse's compliance and global regulatory environment, as well as the banks' policies and controls.
From 2010 to 2015, she was the Chief Financial Officer (CFO) for the Investment Banking (IB) division and a member of the IB Operating Committee. Since 2013 up until her appointment as CCRO, she was also the Chief Operating Officer (COO) for the IB division. Prior to her CFO and COO roles, she was the Global Head of Fixed Income and Economic Research, and also served as Head of US Equity Research. Lara Warner joined Credit Suisse in 2002 as a senior equity research analyst covering the cable television, wireline and wireless telecommunications services and satellite industries.
Prior to joining Credit Suisse, Lara Warner was a senior research analyst at Lehman Brothers, where she covered the cable television industry. Before joining Lehman Brothers in March 2001, Lara Warner spent 10 years at AT&T, where she held a number of leadership roles including Director of Investor Relations and Chief Financial Officer for AT&T's Competitive Local Exchange business unit efforts in the US.
Lara Warner is Chair Emeritus of the Women's Leadership Board of Harvard University's John F. Kennedy School of Government. She is a Member of the Harvard Kennedy School Dean's Executive Committee, a Board Member of the Aspen Institute's Business and Society Program as well as a Member of the Board of Visitors of Smeal College, Pennsylvania State University. She holds a Bachelor of Science in Finance from Pennsylvania State University.
When:
12:00PM Fri 1 Nov 2019, Europe/Zurich timezone

Where:
Haus zum Rüden
Limmatquai 42
Zurich, ZH 8000 Switzerland
[ Get Directions ]