Geneva Chapter: Lunch Talk with Reza Bundy
Join us on Wednesday, October 19th, from 12.00 to 14.00 at Hotel des Bergues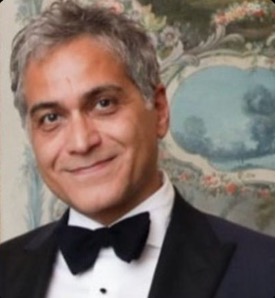 Dear alumnae and alumni,

We would like to invite you to a lunch talk followed by a Q&A with Reza Bundy, CEO at Atlas Capital Team L.P. on
Fintech, Monetary Policy, and Asset
Management as Solutions for Volatility and Inflation
Talk and Lunch: 12.00 to 14.00 at Hotel des Bergues, Quai des Bergues 33, 1201 Geneva
Cost:
CHF 50 (Club members below 35 years old)
CHF 70 (Club members 35 years old and above)
CHF 85 (Non-members – Actual cost)

Tickets must be purchased in advance - no Tickets will be sold at the event.
Meet Reza Bundy
CEO of Atlas, which I founded as a public policy initiative in 2016 to solve monetary instability during sustained periods of geopolitical, climate, and asymmetric shocks.
Formerly, I was the founder and CEO of IronPlanet, the leading online inspection-based marketplace focused on the used capital goods market, which was sold to Ritchie Bros for $758 million in 2016. Also Co-founded and served as the Co-Managing Director of Provence Capital, a private development venture capital group that leveraged capital, proven technology, and a global network of relationships to support local business and infrastructure in emerging markets.
During my career, I was the lead research analyst for Bain Willard Companies (founded by Bill Bain of Bain & Co.), Entrepreneur-in-Residence for Kleiner Perkins Caufield & Byers and Accel Partners, and I worked for the Economist Intelligence Unit, the New York Times, and ABC News in the Middle East.
Previously I have been on the board of directors of the Atlantic Council and the board of Rand Corporation's African First Ladies Initiative.
Harvard Club of Switzerland
Geneva Chapter
When:
12:00PM - 2:00PM Wed 19 Oct 2022, Europe/Zurich timezone

Where:
Hotel des Bergues
Quai des Bergues 33
Geneva, GE 1201 Switzerland
[ Get Directions ]