Harvard After Work Drinks Zürich / HBS Global Networking Night Zürich 2018
Join us on Tuesday, October 21, 18:30 at the George Bar & Grill in Zurich - https://george-grill.ch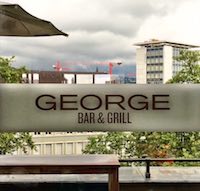 Dear Harvardians,

We would like to invite you to our upcoming event Harvard After Work Drinks Zürich.
This evening, our event doubles as HBS Global Networking Night Zürich 2018! HBS alumni throughout the world will come together for an evening of informal networking and engagement. There's no better time to be connected – welcome recent graduates and meet other alumni in your city at this relaxed and fun evening! Make new connections. See old friends. Explore opportunities.
Come and join us for an evening full of great conversations and encounters with new and old friends of Harvard University.
17th October 2018, 18:30 to 21:00
"George", Sihlstrasse 50, 8001 Zürich
CHF 30 @ door for snacks and one drink
Please RSVP This event is open to all members of our club as well as all members of the wider Harvard Community. Please feel free to share this link with other interested alumni, students, and faculty.
We look forward to seeing you!
Moritz, Damian, and Ulrich
For the Harvard Club of Switzerland
PS: For questions regarding this event, please e-mail Moritz John
When:
Wednesday, 10/17/18 at 6:30pm | iCal
Where:
George Bar & Grill
Sihlstrasse 50
Zurich, ZH 8001 Switzerland
[ Get Directions ]