Luncheon (noon)
Guest of Honor: Erik Fyrwald, CEO of Syngenta Group
Join us on Monday, January 27, at 12.00 at the Haus Zum Rüden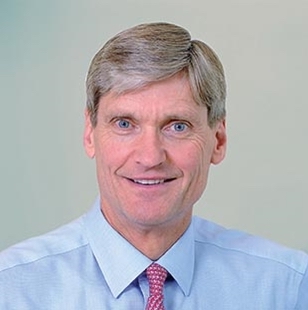 Meet Erik Fyrwald
J. Erik Fyrwald was previously President and Chief Executive Officer of Univar, a leading distributor of chemistry and related products and services (2012–2016); President of Ecolab, a cleaning and sanitation, water treatment, and oil and gas products and services provider (2011–2012); and Chairman, President and Chief Executive Officer of Nalco, a water treatment and oil and gas products and services company (2008–2011). He was Group Vice President of the Agriculture and Nutrition Division of the DuPont Company (2003–2008). He currently serves on the Board of Directors for CropLife International and the Swiss-American Chamber of Commerce. Apart from his functions in Syngenta, J. Erik Fyrwald currently holds the following board memberships:
- Listed companies: Bunge Limited, Eli Lilly and Company

He holds a Bachelor's Degree in Chemical Engineering from the University of Delaware and completed the Advanced Management Program at Harvard Business School.
Click here to buy tickets!!!
Please complete questionnaire at the end of the check-out. R
egistration closes at mid-night on January 26th.
When:
12:00PM Mon 27 Jan 2020, Europe/Zurich timezone

Where:
Haus zum Rüden
Limmatquai 42
Zurich, ZH 8000 Switzerland
[ Get Directions ]
Look Who's Coming:
Dominik Zehnder
Holger Demuth
CCB
Aneta Angelova
CCB Zürich
Hanspeter Diener
Astorg Partners
Flooris Van der Walt
vanderwalt GmbH
Eric Zangger
Dr. Thomas Wiegelmann
Schroder Real Estate
Guest of Dr. Thomas Wiegelmann Hennig
Schroder Real Estate
Lubos Marek
Aneta Angelova
China Construction Bank Zurich Branch
Deirdre Ni Annrachain
Niederer Kraft Frey
Elena Zafirova
Alfred Scheidegger
Norbert Staub
Juho Lievonen
Norbert Locher
Syngenta Agro AG
Dr.Giuseppe Santagada
Boris Eykher
Open Mineral AG
Beat Fraefel
Jie Pan
Daniel Häusermann
Henrik Toggenburger
Diane Bailey
John Soleanicov
Michel de Rougemont
Joseph Shabathai
JOSEPH SHABATHAI INVESTMENT MANAGEMENT
Maria Tavares
Givaudan SA
Elena Wong
Garif Yalak
Cisco Systems
Adrian Krebs
TIE
Matthias Heller
... a total of 35 guests.
Note: to opt out from this list please sign in, go to My Account and change your preferences under My RSVPs.