Harvard Global Networking Night
We look forward to a another wonderful evening of cocktails and conversation, with old and new friends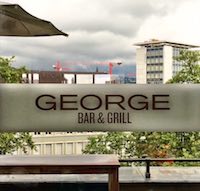 Dear Harvard Club members,
We are pleased to invite you to the next Harvard Global Networking Night.
This year's networking night will comprise of two parts:
Part 1 (in person):
Come and join us for an evening full of great conversations and encounters with new and old friends of HBS and Harvard University. On Thursday, 21. October 2020 from 18.30 to 21.00 in Zurich at George.
You will be asked to pay CHF 30 at the door (discount if you pay online) to cover for snacks and drinks.

Please RSVP here.
In the context of COVID19:
- Attendance is this time limited to 25 guests. FIRST COME, FIRST SERVED.
- We encourage you to observe the usual COVID19 precautions.
Part 2 (online, HBS login required - this event is exclusively for HBS members):
This first-ever worldwide online event begins on October 20 with a special interactive presentation by Professors Joseph Fuller and William Kerr, who will explore how companies need to take action on three forces that are changing how and where we work: the rise of the gig economy; the growing polarization between middle skills and high skills workers; and the evolution in the contract between employees and employers — all amidst COVID-19.
This live program will be presented twice at 8:30am EDT and 5:30pm EDT. You can register for the Future of Work program here.
Please feel free to forward this invitation to other interested members of the Harvard Community.
We look forward to seeing you!
Damian and Moritz
For the Harvard Club of Switzerland
When:
2:30PM Tue 20 Oct 2020 - 9:00PM Wed 21 Oct 2020, Europe/Zurich timezone

Where:
Werk 8
Dornacherstrasse 192
Basel, BS 4053 Switzerland
[ Get Directions ]