FUSION - Joint Alumni Forum (Social Responsibility) & Harvard Founder's Talk Sponsored by Impact Hub
Discussion with the Co-Founders of

Co-Founder: Ralph Chami – International Monitary Fund – Assistant Director
Co-Founder & CEO: Walid Al Saqqaf – Founder of Insureblocks - blockchain & smart contracts
Co-Founder: Ian Redmond - Wildlife Biologist and renowned conservationist, protectionist work includes mountain gorillas and elephants
Founder's Interview: Vivvi Hu – Executive Board, Harvard Club of Switzerland – Founder of Harvard Founder's Talks
Moderator: Diane Bailey – Executive Board, Harvard Club of Switzerland – Founder of the Joint Alumni Forum
Dear Harvardians, Joint Alumni Forum, and interested Parties,

The Joint Alumni Forum in collaboration with the Harvard Founder's Talks would like to invite you on you Thursday 29 September 6:00 pm CEST | iCal ) to an interesting fusion where social responsibility meets entrepreneur innovation. In this event, we will hear short presentations from the two Co-Founders of Rebalance Earth on the vision, mission, and purpose of Rebalance Earth. Vvivi Hu (Harvard Business School) will then interview two of the Co-Founders of Rebalance Earth about the business proposition and key business drivers to the success of such a social enterprise. A Q&A will follow. Diane Bailey (Harvard JFK School of Government) will moderate the event.

Rebalance Earth ("RE") is a purpose-driven start-up whose aim is to build a resilient, equitable & sustainable economy, underpinned by a regenerative nature & thriving local communities through a global ecosystems services platform for valuing and funding a living nature to combat climate change, biodiversity loss and lifting communities out of poverty. RE's nature-based solution is augmented by blockchain technology to reimagine carbon offsetting markets through biodiversity, protecting forest elephants as well as addressing poverty through an incentives system for supporting RE's ecosystem.

Rebalance Earth believes there is a better way for society, the natural world & a thriving economy to co-exist and support one another.
https://www.youtube.com/watch?v=H_e2qAy1yOc

This event will be quasi/physical- quasi/virtual where participants have the opportunity to either attend the event physically or watch the live event virtually.

When: Thursday, 29 September, 6:00 pm
Location: Impact Hub Viadukt, Viaduktstrasse 93, 8005 Zürich
Tickets: We kindly request contributions toward the costs of running this event. Contributions are voluntary and appreciated - bank information is at the bottom of the registration form.
We look forward to providing a thought-provoking forum for discussion.

For and on behalf of the Harvard Club of Switzerland and the Joint Alumni Forum

Diane B Bailey & Vvivi Hu
Meet our Guests
Ralph Chami

Ralph Chami is Assistant Director at International Monetary Fund where he had served for 23 years. For more than 15 years Ralph was Head of Regional Surveillance for the Middle East, North Africa, and Central Asia, Division Chief, and Mission Chief for fragile States including Egypt, Libya, Sudan, South Sudan, Somalia, and Yemen. Ralph was involved in the IMF research (2019) on how whales have been saving humanity from climate change, considering the cheap Earth Tec vs Untested and expensive High Tec solution to climate change.
Ralph is Co-founder of Rebalance Earth since November 2020. He has had discussions with the governments of 11 countries (Argentina, Bahamas, Cameron, Cayman, Chile, Costa Rica, Egypt, Palau, Saudi Arabia, UK) regarding the RE nature-based paradigm and a potential project in the Florida Everglades. Ralph has numerous professional affiliations and speaking engagements.
Mr. Chami has a Ph.D. in economics from John Hopkins University, an MBA in finance and statistics from the University of Kansas, and a Bachelor of Science from American University in Beirut.
Walid Al Saqqaf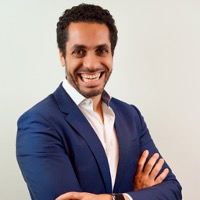 Walid Al Saqqaf is the founder of Insureblocks, a dedicated weekly podcast on blockchain, smart contracts, and Distributed Ledger Technology (DLT). Hosted by Walid Al Saqqaf, this podcast invites expert speakers from incumbents to the most promising start-ups in London, New York, Zurich, and around the world. Insureblocks helps viewers to understand the basics of blockchain and also hear about proof of concepts, what enterprises and startups have done, their learnings, and the end results in industries around the world. Mr. Al Saqqaf has been involved in the set-up and running of numerous start-ups and is also involved in several blockchain and supply chain enterprises.
Walid is Co-founder and CEO of Rebalance Earth since November 2020 where he coordinates and manages the efforts of more than 60 volunteers in 10 committees worldwide.
Walid has a BA in Economics & International Relations from the University of Warwick and attended the American School of Paris in primary/secondary school.
Ian Redmond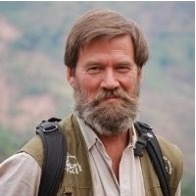 Ian Redmond is a Wildlife Biologist and a Co-Founder at Rebalance Earth since November 2020. Ian has made numerous trips to Gabon Africa to inter alia study the forest elephants (an endangered species), their habits, and their impact on the forest to sequester and store carbon, which will be used in the Rebalance Earth carbon offsetting mechanism.
Mr. Redmond is Head of Conservation at ecoflix in Stroud, England, a video-on-demand streaming service dedicated to the protection of the earth and its animals. This platform supports wildlife filmmakers and provides a worldwide platform to the many heroes fighting to protect critically important habitats and the animals who depend upon them and play a role in sustaining them.
Ian is Ambassador to UN's Convention on Migratory Species since 2010, Ambassador and Consultant for Virtual Ecotourism since 2012, Chairman of Ape Alliance since 1996, part of the Envoy GRASP - UN Great Apes Survival Partnership since 2001, and has served as Senior Wildlife for The Born Free Foundation since 1995. Ian is a writer, lecturer, photographer writer, and Independent Wildlife Consultant since 1976.
Ian has a BSc in Biology and Geology from Keele University (Staffordshire) – from 1973-1976.

About the Joint Alumni Forum
The Joint Alumni Forum, a social responsibility committee of the Harvard Club of Switzerland and cooperation with the alumni clubs in Switzerland of Harvard, Oxford & Cambridge, Stanford, Yale, and Columbia University was established in January 2018 as a forum for discussion, education, and debate on various themes encompassing social responsibility (i.e. equality themes, environment, sustainability, human rights, etc.). The outreach for the speakers series is broader than the alumni of universities in the collaboration, but also like-minded representatives of institutions and interest groups and members of the public. If you'd like to know more about us or participate in our initiatives, you can contact joint.alumni.forum@gmail.com.

When:
6:00PM Thu 29 Sep 2022, Europe/Zurich timezone

Where:
Impact Hub Viadukt
Viaduktstrasse 93
Zurich, ZH 8005 Switzerland
[ Get Directions ]