Joint Alumni Forum
What should we know about the Use of Pesticides? Different Perspectives.
Panel Discussion with Industry Experts
Panel Speakers:
Professor Edward Mitchell, Professor of soil biology at the University of Neuchâtel
Professor Bernard Laubscher, Professor of pedriatics at the Faculty of Biology and Medicine, University of Lausanne - Le Centre hospitalier universitaire vaudois (CHUV)
Petra Laux, Global Head of Business Sustainability at Syngenta Crop Protection
Diederik Michel, Oenologist and Owner of Weingut Diederik

Moderator: Diane Bailey – Executive Board, Harvard Club of Switzerland and Founder of the Joint Alumni Forum
Dear Harvardians, Joint Alumni Forum, and Interested Parties,

The Joint Alumni Forum would like to invite you on Monday, 21 November, at 6:00 pm CEST, to a critical discussion on the use of pesticides and how it has impacted Switzerland. This event is meant to be purely educational on a critical topic affecting Switzerland and not meant to make a political statement or take a position: (i) Professor Mitchell will give a general overview on the use of and the environmental contamination by pesticides to set the stage for the panel discussion (ii) Professor Laubscher, will talk about medical implications to use of pesticides (iii) Petra Laux will talk about the relevance of crop protection for food security as well as for protecting climate and nature, and (iv) Diederik Michel will talk about an innovative approach used to crossbred grape varieties to reduce the use of pesticides by 50%. This will be followed by a discussion of cases for responsible use of pesticides and cases against them.

This event will be quasi/physical- quasi/virtual where participants have the opportunity to either attend the event physically or watch the live event virtually.
When: Monday, November 21, 2022, 6:00 pm
Location: PwC Experience Center, Rieterstrasse 6, 8002 Zürich
Tickets: We kindly request contributions toward the costs of running this event. Contributions are voluntary and appreciated - bank information is at the bottom of the registration form.
We look forward to providing a thought-provoking forum for discussion.

For and on behalf of the Harvard Club of Switzerland

Diane B Bailey
Meet our Panel
Edward Mitchel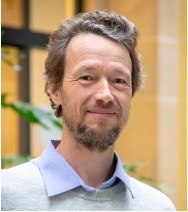 Edward Mitchel is Professor at the University of Neuchâtel, Switzerland since 2009, where he leads the laboratory of soil biodiversity. Previously he was Assistant Professor at the University of Alaska Anchorage and then Group Leader and Senior Scientist at WSL. He got MSc & PhD in Biology from the University of Neuchâtel (1995 & 1999).
Professor Mitchell's research started with peatland ecology and palaeoecology in Switzerland, followed by global change ecology at the European level and then expanding to other ecosystems, the study of soil biodiversity, especially a group of free-living protozoa, the testate amoebae, initially used as bioindicators of past environmental changes. Biodindication then led to forensic ecology, ecotoxicology, and environmental and human contamination by pesticides, especially neonicotinoids.
Edward Mitchell's team combines field observational research with experimental approaches in the lab - Microscopy to high throughput sequencing of environmental DNA. The research has practical applications in biomonitoring of pollution and ecosystem restoration and forensics.
Edward Mitchell is involved in several national and international organisations including the Biodiversity Forum of the Swiss Academies of Natural Sciences and the IUCN Task Force on Systemic Pesticides.
Bernard Laubscher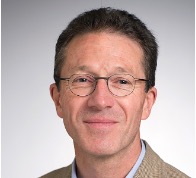 Called upon to play an important role at cantonal and inter-cantonal levels in the training of future pediatricians, Bernard Laubscher was appointed Full Professor in the Medical-Surgical Department of Pediatrics at the University of Lausanne on August 1, 2013.
General pediatrician and neonatologist, Bernard Laubscher trained in Switzerland and England. He shares his activity between the Neuchâtel Hospital as chief physician of the Department of Pediatrics and the CHUV as assistant physician in the Medical-Surgical Department of Pediatrics and his pediatrician's office. Mandated by the Public Health Service of the Canton of Vaud, in 2012 he created the Network for the training of pediatric assistant physicians (Res-For-Ped) which he currently chairs. The mandate of this network is to coordinate the training of numerous pediatric assistant doctors in Vaud and Neuchâtel hospitals, as well as in Fribourg, Delémont, and Sion.
Bernard Laubscher defends a systemic vision of pediatrics. It seeks to promote links between the various childhood specialists as well as between the various places of care for the child and offers a framework for reflection and questioning around the continuity and meaning of pediatric practices. Alongside his important clinical and teaching activity, he pursues research work on various clinical and practical aspects of childcare.
Petra Laux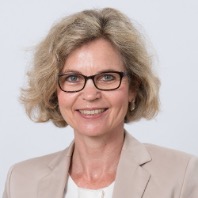 Petra Laux is a senior executive at Syngenta with 25+ years of experience in the pharma industry, now agrochemicals. Petra joined Syngenta in 2019 as Head Business Sustainability EAME to shape sustainability strategy across regulatory, stewardship, government/ industry relations, sustainability initiatives, and external affairs, to position Syngenta as a trusted and collaborative company, aiming to secure a license to operate and to secure regulatory approvals and acceptance of Syngenta technologies. In 2021 Petra became acting Chief Sustainability Officer of Syngenta Group, driving the sustainability agenda of Syngenta group, transforming the future of farming, helping to identify sustainable solutions in agriculture to address climate change, putting breakthrough technology and innovation to work on farms, increasing biodiversity and raising the environmental standards of our industry worldwide. Since August 2021 she is Global Head of Business Sustainability Crop Protection at Syngenta where she integrates sustainability into all aspects of the CP strategy to be a global leader in plant health innovation, helping growers improve farm productivity and sustainability, with focus on accelerating sustainable breakthrough innovation, safe and sustainable use of crop protection, reducing the footprint of production and supply, and to enable market access and acceptance of CP products and technologies through strong regulatory science, targeted stewardship and stakeholder outreach. Previously Petra was at Novartis International AG for more than 15 years as Head of Global Public and Governmental Affairs and prior to that Director of EU Government Affairs at GlaxoSmithKline.
Ms. Laux has an MA in Public Health from Hanover Medical School (1995), State Exam in Pharmacy at Christian Albrechts Universität Kiel (1986) where she got a PhD in Pharmaceutical Chemistry (1989).
Diederik Michel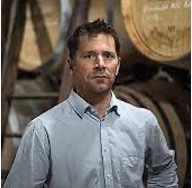 Diederik Michel is Oenologist and owner of the Winery Weingut Diederik founded in 2014. Diederik has previously achieved
• Expert on behalf of SBFI for recognition procedure for viticulture technician HF in Strickhof Aug 2015 - Aug 2017 in Lindau / Wädenswil / Au

• Oenologist Dipl. Ing. FH for Zweifel & Co. AG, Feb 2011 - Jan 2014 - Zurich Area, Switzerland in Winemaking, Quality Assurance

• Oenologist Dipl. Ing. FH, Schipf Winery, Herrliberg on Lake Zurich, Apr 2007 - Feb 2011 in Viticulture, vinification, quality assurance, sale

• Oenologist Dipl. Ing. FH, Zweifel Wines, Mar 2004 - Mar 2007
Diederik got a Dipl. Ing. FH in Oenology at University of Applied Sciences Wädenswil / ZHAW Wädenswil 2000 – 2004.
Diederik is very active in Küsnacht where he is a Board member of the local Trade Association. He is also active in the broader wine industry where he is on the Executive Board of the Wine Division of the Alumni Netzwerk Wädenswil. In this position, he is co-host of the annual two-day conference for Winemaking and Viticulture called "Wädenswiler Weintage".
About the Joint Alumni Forum
As the "Social Responsibility Committee" of the Harvard Club of Switzerland comprising representatives of the Alumni Clubs in Switzerland of Harvard, Oxford & Cambridge, Stanford, Yale, and Columbia University, we designed a forum for discussion, education, and debate on various themes encompassing social responsibility (equality issues, human rights, environment, sustainability). The outreach is broader than alumni in the collaboration, and also other alumni clubs in Switzerland, like-minded representatives of institutions/ interest groups, and members of the public. If you'd like to participate in various projects encompassing social responsibility, you can contact joint.alumni.forum@gmail.com.

MagnetWidget::Event Dashboard